Dance Fit For Work ®
What is Dance Fit For Work?
Using dance as a medium you can have a team building activity that ticks all the boxes.
This specially designed team-building program fosters greater team spirit, builds trust and increases communication. Swing dance is about creativity - think outside the box in a fun, inventive and healthy atmosphere that requires no previous dance experience.

Why dance?
Dancing goes back through the ages,  it has been an important part of ceremony, rituals, celebrations and entertainment since before the birth of the earliest human civilizations. It is well known for building confidence, improving personal presentational skills and the physical activity is proven to give you more energy, help prevent stress and keep you more productive in your work.

What do you get from a DFFW session?
♦   Build team spirit, partnering skills resulting in enhanced communication
♦   Creativity, initiative, leadership
♦   Increased confidence, creating a sense of achievement by working towards a rewarding end goal
♦   Better health, enhanced well being leads to stress release and greater efficiency
♦   Or just good old fashioned fun!

But I can't dance?
Don't worry that's our job, DFFW is suitable for?
♦   All levels of fitness
♦   All ages
♦   No previous dance experience required
♦   Mixed male/female groups, all or mostly female, we've yet to do an all male group but you could be the first!

How long?
Sessions are normally between two to four hours.

Where?
They can be done online, in your own premises or we can help you find a venue.  If you don't have a suitable space, (preferably a wood floor)  we can normally recommend some local venues to hold the workshop in (You may need to book this separately)

What happens?
A typical workshop includes a short warm up, learning a vocabulary of steps and then splitting into teams to create your own dance or a choreography with a final show-stopping performance to surprise your colleagues! (Perform with our professionals or your own teams).
Whilst we normally focus on partner dances it is also possible to do a solo Jazz or Charleston option

What Does it Cost?
Prices start from £300
SwingdanceUK awarded *Best Swing Dance Entertainment Provider - UK* Annual Hospitality Awards 2021
Book a Dance Fit For Work class in your workplace. Contact: [email protected] T: 07932 775 886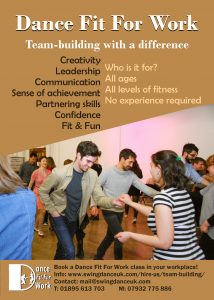 Testimonial
"We all had a great time. It was a really fun way to connect and get moving. 😊 We organised the session to promote well being in our team and boost morale during Covid. It raised our spirits and made us laugh and smile while learning a fun routine. Simon is a great instructor, very friendly and it was a well paced class."  Anna McGettigan, The School and Family Works