Providing Swing dance workshops for festivals, outdoor events, dance workshops & dance weekends!
SwingdanceUK Proudly awarded:
*Best Swing Tuition Provider* Greater London Enterprise Awards 2022
*Best Swing Dance Entertainment Provider - UK* Annual Hospitality Awards 2021 
Contact us today with your enquiry!
Email: [email protected] 
Musicality Workshop
Musician Malcolm Earle-Smith (Senior Lecturer in Jazz at Trinity Laban Conservatoire) together with Swing dancer Simon Selmon bring a musicality workshop with a difference!
We use solo Jazz and Lindy Hop to both classic swing songs and live music to explore musicality through rhythms, scatting, improvising and creativity.
This workshop will help participants grow as dancers and feel the music.
This is a hands-on workshop - participants can expect to dance, not just learn theory!
Topics to be covered:
- A history of how Jazz music and dance developed side-by-side
- What makes music Swing & how it affects the way that you dance
- How to listen and what to listen for
- How to respond to what you hear starting with examples of solo Jazz and mini Lindy Hop choreographies leading to your own improvisation
- Interaction between musicians and dancers and how to improvise in the moment
- Learn about the Melody & Rhythm, Riffs, Pitch & Phrasing
- Call & Response
- Copy & trade dance moves with the musicians & fellow dancers
Email [email protected] to book or discuss options for a Musicality Workshop at your event!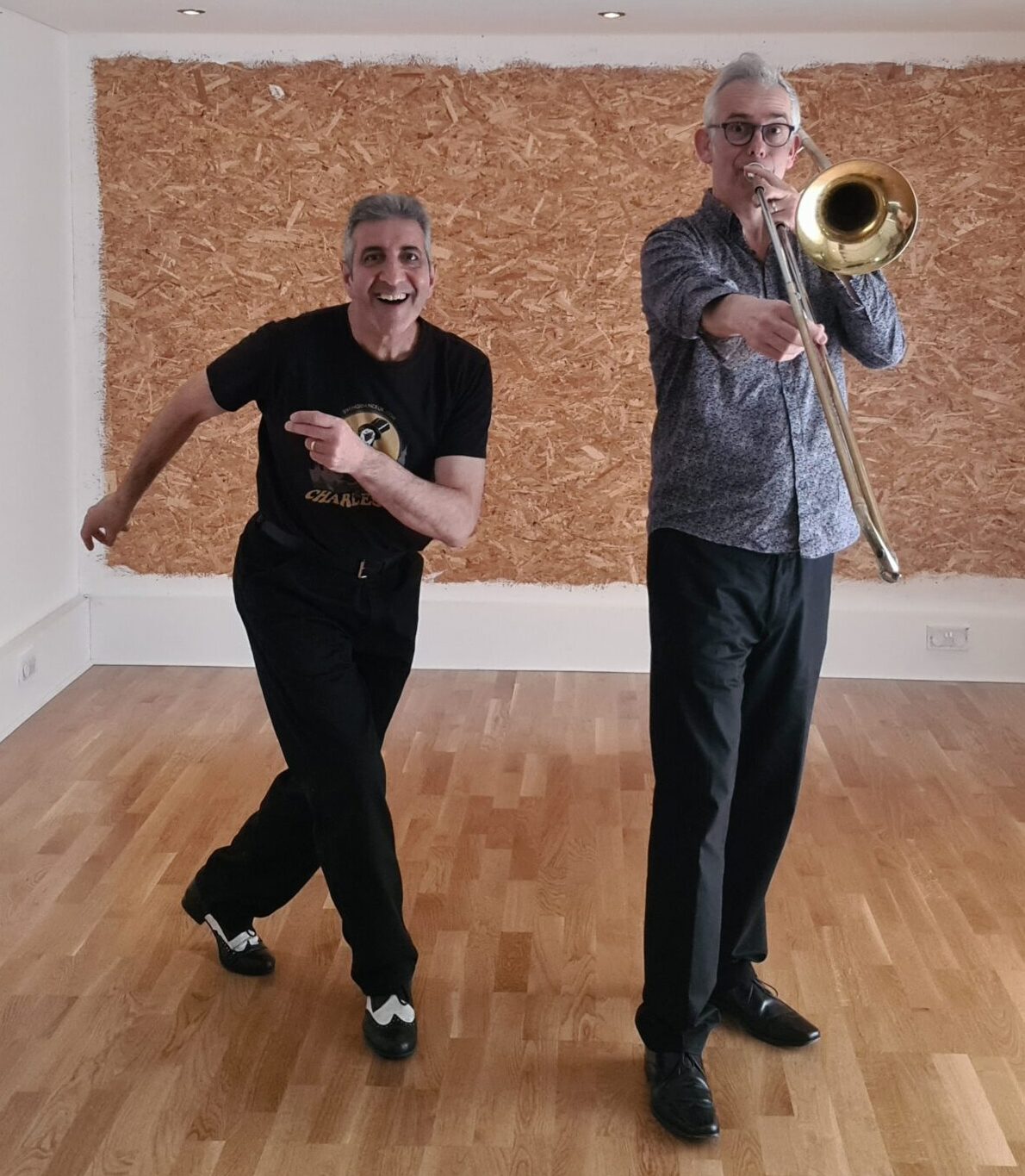 What people have said…
"Loved the passion and learning about music and the interaction between music and dance." Anne P
"....The "conversation" with the trombone was exceptionally fun. Loved having an adaptable so highly talented musician- an incredible privilege." 
"Great to hear what Malcolm had to say about the various levels within a song which gave me a new way to listen to music and how to interpret it in my dancing." Gari N
""Malcolm was great - I didn't know what to expect but his contribution was such a revelation....Simon was excellent. He was very patient, welcoming and informative. I really liked the fact that he and Malcolm played off each other so well." Rob H
"Lovely combination of musicianship, excellent theory and explanations, and fun! I learned a lot from him (Malcolm)!" Lynette R

Journey Through Jazz Workshops
Audience participation combined with a fun history of jazz dance through a mixture of classes from the 1900s Cakewalk, 10s Ragtime, 20s Charleston, 30s Big Apple, 40s Lindy Hop, 50s Jive through to the 60s Twist!
Classes can include:
1900s Cakewalk
1910s Ragtime
1920s Charleston
1930s The Big Apple
1940s Lindy Hop
1950s Jive
1960s Twist
Email [email protected] to discuss what would work for you!