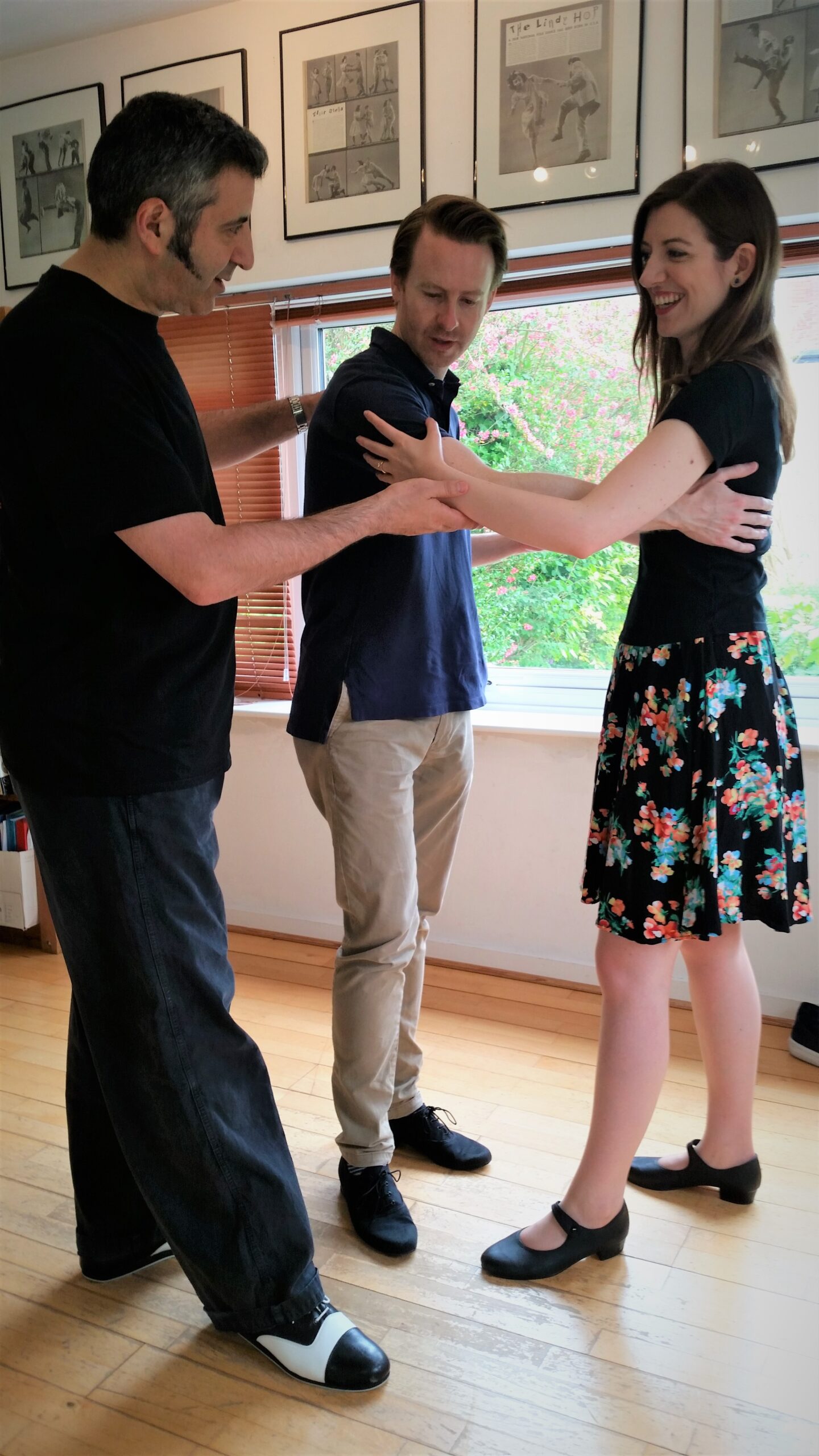 Private Lessons with Simon – in-person or online!
Simon is your coach, trainer or mentor - your partner in learning to Swing dance!  He will have you or you and your partner dancing in minutes. You will have loads of fun learning some basic moves that will get you started on your Swing dance journey! 
Practicing on your own is an important part of your dancing journey, but if you don't have external input it's easy to get stuck in a rut or develop bad habits that are hard to change. A 1-on-1 session will make all the difference!

Let me help you get the most out of your dancing and guide you to the next level. I work with you to offer tailored advice and exercises in a supportive and fun way. 
Styles: Swing/Lindy Hop, Jive, Balboa, 20s Charleston, Authentic Jazz, Shag, Early Foxtrot and Blues.
Come on your own, with a partner or a small group of friends. Perfect for social dancers, competitors or your wedding first dance!
Suitable for all levels from absolute beginners to professional dancers.
Benefits of private lessons include:
- The fastest way to learn to dance
- You have the undivided attention of your teacher
- Work on what you want to learn or be guided by us
- Develop a solid foundation & get more out of social dancing or group classes
- Get more technique & tips than in a group class
- Go at your own pace
- Relaxed & friendly environment.
- Great exercise
Wedding Survival
Nervous about your "first dance"? Surprise your guests with a magical and memorable dance routine. 
Our experience can help you from learning the basics to choreographing a simple (or not so simple!) routine for your first dance!
You can take 1 lesson or book a block of 10!
Gift Vouchers
Buy someone the gift of dance for a birthday, wedding or other special occasion with our private lesson gift vouchers!
You can gift in-person or online privates from 30 minutes to 10 hours!
The Practical Stuff
How many lessons will I need?
That really depends on you! Read More
What style of dance do we learn?
You can choose from 20s Charleston, 40s Lindy Hop or 50s RnR.  If you would like to learn a routine to a specific song, send Simon a clip of the music and let him help you decide on a suitable style!
Is a private lesson good for our Wedding First Dance?
Yes!! This will absolutely help you WOW the crowd with your first dance so you don't end up swaying back & forth on the dance floor for 3 minutes!
What if I/We have two left feet?
It doesn't matter, we can help! Read More
Where: 
- In-person at our studio in Ruislip, HA4 0HY
- We can come to you  - if you have space in your home or you can rent studio or we can recommend a Central London studio. Please note, depending on time and location, there may be a minimum booking of 2 hours plus travel.
- Online - from anywhere in the world via Zoom between sunrise & sunset (UK time).

Costs (ask about a discount for multiple lessons): Read More
Please note: minimum of 48 hours notice required if you need to cancel in order to avoid paying for the lesson
Please Email Simon for prices, availability & bookings at [email protected] or call 07932 775 886.
Let us know the following: Read More