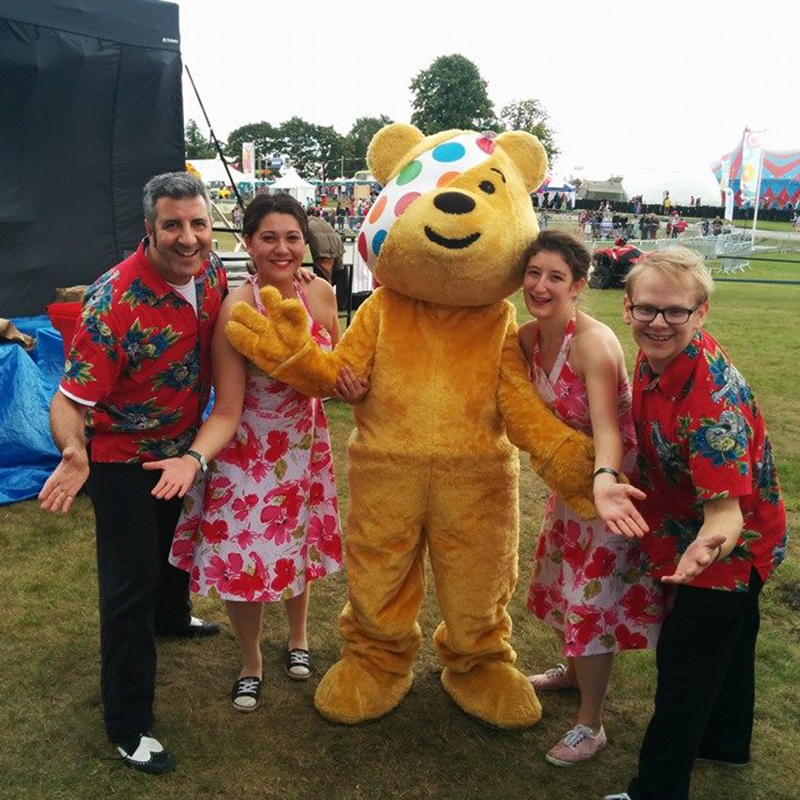 Give your next PE or history lesson a touch of Swing, Charleston or Jive dance magic with a workshop.
Specialists in dances from 1910-1961 including WW1, WW2 & post war dances
Our classes are suitable for children of all ages from primary school (year 5 upwards) to GCSE dance students and performing art colleges, and can be tailored to suit all ability levels.
We can also design our dance workshops to fit in with specific curriculum requirements. From a fun dance class, to experience a little bit of living history or help prepare a choreography for that end of year show.
The dance classes that we run offer a fantastic mix of education and exercise, helping to develop physical fitness and stamina, spatial awareness and coordination, teamwork, self-confidence and creativity simultaneously!
A typical class could start with a short question and answer session to put the dances we are about to learn into context, a warm up, learning a vocabulary of classic steps, followed by a short routine.  If we have time, we can polish the routine into a short performance which they can do at the end of the day and/or also teach a second shorter class of either the Big Apple (a speciality dance done in the 30s and 40s which is always very popular with the children) or the Lambeth Walk.
One teacher is usually sufficient to lead a swing dance workshop, but please check prior to booking.
What to Wear
If possible, could the students wear either jazz shoes, plimsolls, character shoes or even street shoes in preference to bare feet or trainers that don't allow them to spin, turn or twist where required.
Online Workshops
Classes & workshops can be streamed online - please email to discuss options.
Testimonial – Trinity Laban Conservatoire of Music & Dance – September 2023
"Thanks for the lovely workshop yesterday. I believe the participants enjoyed the event as much as I did.  I in particular enjoyed the part where we unpack the different melody lines of the jazz band so people who are joining as dancers could understand how the texture of a jazz band works." Mitch Tam, Trinity Laban Conservatoire of Music & Dance
Testimonial – Langley Primary School – May 2023
"Thank you very much for the workshop today. Both classes had lots of fun and now have many moves to incorporate into their PE lessons."
Rachael Mole, Langley Primary School
Testimonial – Rosemead Preparatory School & Nursery – March 2021
"First of all, a big thank you to Swing Dance UK for a fun, energetic and all-round superb workshop. We used Swing Dance UK as our very first workshop this school year, and it was a pleasure to be able to host Simon physically in school.
The children have been studying all about WW2 and this was the perfect way to end our topic and prepare for our VE day celebrations. The children were full of laughter and smiles and it was great to see them all getting involved, even the quieter ones came alive and teachers too!
Simon was great at capturing the children's interest and was able to engage with them on the perfect level. The children have remembered the names for all the moves and Simon's cool shoes have also been a talking point! Simon was knowledgeable about WW2 and the impact of dance and asked great questions which we were able to follow up the next day in our History Lessons.
Communication was great and the workshop was very easily organised and adapted given current circumstances.
Thank you again!"
Katie Sheenan, Rosemead Preparatory School & Nursery
Testimonial – Online Zoom Workshops – November 2020
"The day ran smoothly and the experience was not hindered in any way due to the classes being held over Zoom. All of the children responded well and were able to both hear and follow instructions from the teacher well. The routine allowed the children to get a real taste of the Lindy Hop whilst also maintaining social distancing rules. It was great seeing the children laugh and smile as they worked through the dance moves and built their confidence; even the children who are often quite reserved got involved which was a delight to see! We are very pleased with how SwingdanceUK structured and delivered the sessions and we look forward to working with them again in the future." 
Melissa Dedman, Year 6 Teacher, Lovelace Primary School
"Thank you for working with Mel to organise the Lindy Hop workshops again for our children this year. Unfortunately, I wasn't able to come to the hall but all of my class came back having absolutely loved the session. I'd asked the teacher who brought them to film some bits to use in my class assembly and it was fantastic to see ALL of the children participating - even those who would never normally get involved in that sort of activity. Once again, you've done a fantastic job with our children.
See you again next year! :)​"
Erin Robinson, Year 6 Leader, Lovelace Primary School