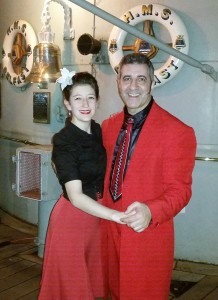 Simon Selmon (UK) & Anna Lambrechts (FR)
Simon has choreographed and performed for stage, film & TV including My Week with Marilyn, Dancing on Ice, The Apprentice and Strictly Come Dancing. He has been a UK and US dance champion and a World Lindy Hop Judge and has authored two instructional books on Swing dancing.
Through the London Swing Dance Society which he founded in 1986, the UK's longest running swing dance club (now known as Swingdance UK), he has taught 1000's to dance, and he has travelled internationally to teach and perform, including 20 years at the Herrang Dance Camp. Many of his past students have gone on to become successful teachers and performers themselves.
Anna joined Simon in 2012 and together they have performed on ITV's Paul O'Grady Show, performed for Prince William at Beating Retreat, they were featured dancers in a forthcoming Keith Lemon TV show, and many festivals and shows such as CarFest and the Ideal Home Exhibition.
Ichtiandras Veliulis & Solveiga Griušyte (LI)
Ichtis started dancing in 1984 and he did different styles: Break dance, Boogie Woogie, Rock'n'Roll. In 1992-2000 Ichtis was dancing and performing at show agency Kakadu Klaipeda. In 1995 he started Lindy Hop and became the Lindy Hop pioneer of Lithuania!
Solveiga started dancing ballroom at age 5. she met Ichtis in 1999 and together they started dancing Lindy Hop. They took part in competitions (1pl.in Estonia 2001, 2pl.in Holland Open Benelux 2002). They made several TV-appearances on Lithuanian and Russian TV.
Ichtis and Solveiga have also a long-standing teaching career in various countries (Russia, Estonia, Latvia, Germany and Herrang dance camp in Sweden). They moved to England in 2006 and have been teaching in several places including: Portsmouth, Oving, Botley, Fareham, Chichester, The 100 Club in London, Wild Times in London. They also run the Andover Lindy Hoppers!
Taina Kortelainen (FIN)
Taina Kortelainen is the driving force behind Would You Dance.
She has been teaching, competing, performing and judging various forms of partnered dancing all over Europe for 20+ years.
Taina runs dance workshops from total beginners to advanced + coaches performers, new teachers and competitors. Different dance styles range from Swing Dances: Lindy, Balboa, Charleston, Collegiate Shag etc to Solo Jazz (Big Apple, Tranky Doo, Shim Sham etc) and Ballroom & Latin!
To top it all she is UK, USA and Finnish Champion!
Lizzie Abrahams (UK)
Lizzie has been dancing different dances since she was 4, with an impressive 21 years of Lindy Hop. Ballroom, Latin and Tango are also great loves so whatever music comes on be sure to ask her to dance.
Lizzie runs the annual Brighton Lindy Hop and Balboa Festivals.