Forthcoming Balboa Workshops:
Love dancing to faster music? Then Balboa could be the dance for you! Originating from the Balboa Pavilion in Newport Beach, California, the dance became popular in the 30s and 40s.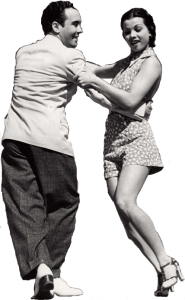 These workshops are designed by Simon Selmon, who is one of the longest running dedicated professional Swing dance teachers in the world and his partner Anna Lambrechts. They will focus on a mixture of classic pure Bal footwork and Bal-Swing.
At the end of the course you will be able to lead or follow the basic Balboa patterns and either dance a whole song of Bal or understand how to incorporate it into other styles of Swing dance.
Plus course attendees will receive a weekly video recap by email so no problem is you have to miss a week.
Who is this course for?
This course is designed for:
Beginner Bal dancers or those who have done a little Balboa and want to become confident with both Up and Down basic, Come Around, Transition/Crossover, Lollie Kicks, multiple Underarm Turns
Those who want the confidence to get out on the dance floor when a fast song comes on and be right in that groove.
Gain more confident basics and a better understanding of those basics.
A strong basic will be your foundation to move your dancing up to the next level
To dance to fast music: specially designed footwork drills to help you step it up.
Old school technique passed on from original Balboa dancers that just work.
To think on your feet once you don't have to think about your feet.
Styling that comes out of strong technique
Advanced level understanding of compression, tension & tone
Lead or follow with any partner
Develop your style and how to have awesome, mind blowing dances!
Where?
CitySport, 124 Goswell Road, London, EC1V 7DP. Tubes: Barbican, Old Street
More questions?  Check out our FAQs below!
Fast Beginners Balboa – 6 Week Course – From fast beginner to intermediate
Cost:
Pre-booking only £60 for 6 weeks, £115 per lead/follow couple. Limited numbers.
Please note, this course will only run with a minimum of 10 people
FAQs
Who are your teachers?
Simon Selmon and Anna Lambrechts, the experts in getting you on the dance floor.  We love to dance and we are passionate about sharing the magic that dance can bring into your life. All our courses have been carefully designed by Simon and bring over 30 years of experience learning from many original and modern masters of the dance.
Where are these workshops held?
CitySport, 124 Goswell Road, London, EC1V 7DP. Tubes: Barbican, Old Street

What to wear?
When attending classes, the most important thing is to be comfortable and to wear something you can easily move about in - jeans and t-shirt is absolutely fine.
Shoes?
Comfortable every-day shoes are fine when you are just starting out. Make sure you have something which stays securely on your feet (eg. no flip flops!) and which you can spin easily in (very high heels or trainers with sticky soles are not recommended!). After a while, you may want to invest in some dance shoes from the Lindy Hop Shop
Can I drop in?
Sorry these are all progressive courses, designed to be taken as a whole, if you are unable to attend a week you will receive the video review for you to practice on your own and we will help you catch up in the next class
What happens in the unlikely event this course is not for me?
No problem we offer a 100% money back guarantee. If after you attend the first lesson this course is not for you just tell us at the end of the class and we will send you a full refund (including the first week which you can have on us), no quibbles, no fuss. 100% safe.
What People Say
"The Mini Booster workshops coached by Simon and Anna pulled me out of my dancing rut, challenged my abilities and broadened my knowledge. Simon and Anna are warm, kind and fiercely talented dancers and teachers. I can confidently say that I have left every workshop a better dancer with more confidence and always, a big smile, having made new friends." Charlotte
Treat yourself to a private class.
The fast track to learning! Book a private class in Lindy Hop, Shag, Balboa, Blues or Charleston with Simon or Anna.
Pre-Booking only - email mail@swingdanceuk.com for full details & how to book. Limited Availability!